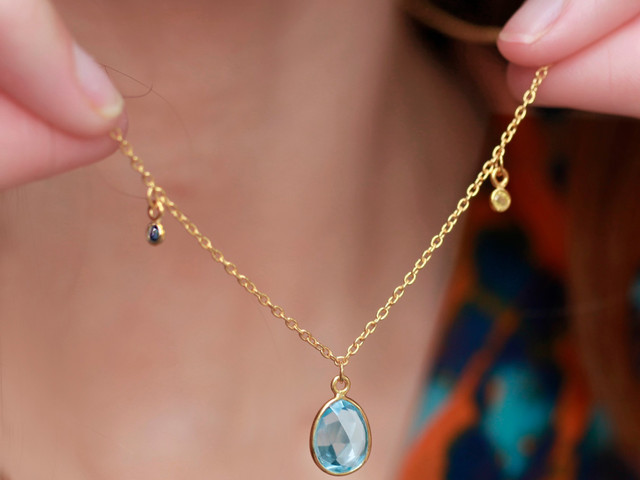 Planning To Gift Jewellery? Here Are Some Tips
Gifting jewellery is the most personal, timeless and perfect gift that you can give a woman for her special day or any of the achievements she makes in her life.  And if you don't know the person in-depth, you can look into the following guide on picking a jewellery gift to create an everlasting impression in their mind.
Factors to Consider
There are some main criteria to check before walking into a store or purchase online jewellery in India. They are:
Have a close watch on their style or the jewellery they own to understand their taste better. There are many kinds of women with totally different, unique and contrasting tastes. Few are classic, sticking with diamond and pearls in their collection. Some prefer layers and large statement pieces. A rare population might also choose modern and quirky ones. Style and fashion choices express the person's personality and inner self to the outside world.
There are three types of metals when it comes to jewellery. There are three types of it; namely, gold rose, gold and silver. If she wears only rose gold, you cannot gift her with some other metal as it will not get along with her entire collection. So always get her the metal she is using daily and the ones that she owns a lot.
The most common kinds of jewellery for gifting are mentioned below. They are:
Earrings: Here again, look out for her fashion sense, and then make a choice. The earrings are a stud, short drop, long drop, modern ones like the ear cuffs. Most important of all, some women do not have their ears pierced. If that is the case, move to the below categories and pick the right ones for her.
Bracelets: This is liked by people who want sleek bangles and is the ideal gift option as one can adjust it to almost all sizes. It is the perfect jewellery that suits both casual and special occasions, and these always stand out exquisitely.
Necklaces: A pendant can also work out as the best gift, if your budget is relatively small and if you know her too well, go for her birthstone pendant to add a personalised touch to it.  You can prefer to pick a necklace if you want to gift her something extravagant. And a chain or a pendant would be the perfect romantic gesture by draping it around her neck.
Rings: This is again a very romantic gift, but this has to be a perfect sized one for her, and therefore, if you have no idea about her ring size, do not go for it as it might end up disappointing the person and making the situation awkward. But if you can borrow her ring size and work on it correctly, there is nothing like a perfect gift like a ring. It comes in various designs like sleek, chunky, stacked, etc.
Personal charms: If the person already has a bracelet on her hand that she never removes and uses regularly, you can purchase a unique charm that suits her likes. This is the best option when your budget is relatively small, but you prefer gifting something that stays with the person all the time.
Personalised engravings: This is another personalised feature to engrave the name and date that makes the gift highly valued by the other person across time.
Finally, closely watch what she eyes online and in magazines and her reaction to them to get the ideal jewellery for her. Treat her right with the perfect piece that she would love and wear every day.